Dalat city flower garden is one of the most famous tourist attractions in the city of thousands of flowers. It is considered a natural museum in DaLat. On the occasion of Dalat flower festivals, city flower garden hot spot.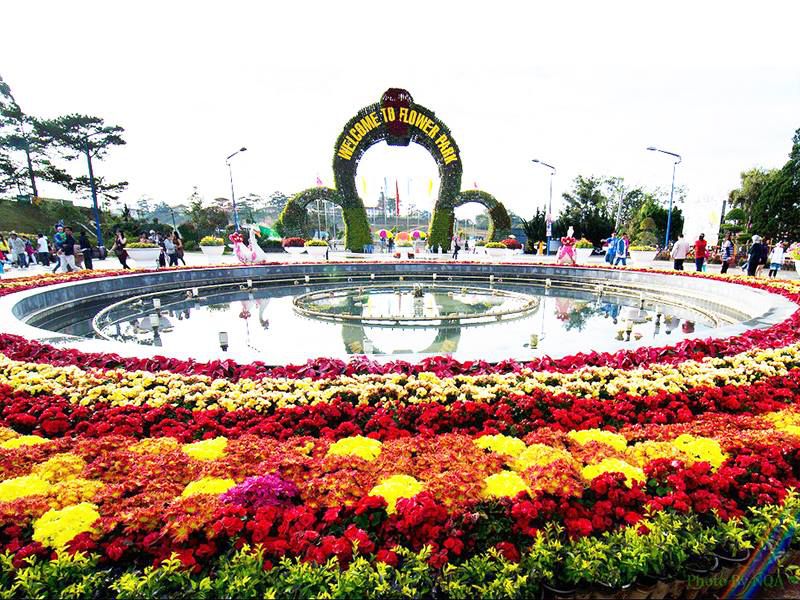 Introducing Dalat flower garden
The city flower garden, also known as Dalat flower park, was formerly called Bich Cau flower garden. Flower garden is one of the famous tourist destinations in Dalat you cannot miss.
Location of Dalat flower garden
Dalat flower garden is located at Huyen Thanh Quan Street, 8 District, 8 Ward, Dalat city, LamDong province.
It lies on the north shore around Ho Xuan Huong Lake, beside dreamlike Doi Cu golf yard.
Direction to Dalat flower garden
The flower garden is situated in the city centre so it is quite convenient for tourists to find away. From the roundabout of the fountain in the front of the Dalat market, you follow the direction of Tran Quoc Toan street.
At the end of the Tran Quoc Toan street, meeting the roundabout of Huyen Thanh Quan street is Dalat flower.
The map of Dalat flower garden
If you are still struggling because you are not familiar with the above directions, you can follow the below map of Dalat to find the address of the most accurate Flower Garden.
Entrance fee in 2020
present the Ticket price for Datlat flower sightseeing is below :
For Adults: 50.000 VND/person.
For Children: 25 .000 VND/person.
Note: Ticket price only applies for one- turn entrance. If you have to leave out this spot, you must buy a new ticket again when you come back.
See more: Dalat tour 1 day
Opening hours
City flower garden opens from 7 AM to 6 PM every day
From May 25th, 2020, Flower garden will open at night from 6 PM to 10 PM on Friday and Saturday weekly.
Phone number: 02633837771.
The history of city flower gardens
Dalat flower garden was built in 1966. However, it was abandoned in a period of time. From 1985, It was rebuilt and reopened up to now.
Formerly, it had the name Bich Cau flower, From 1986, It had been renovated to a flower garden or Dalat flower Park.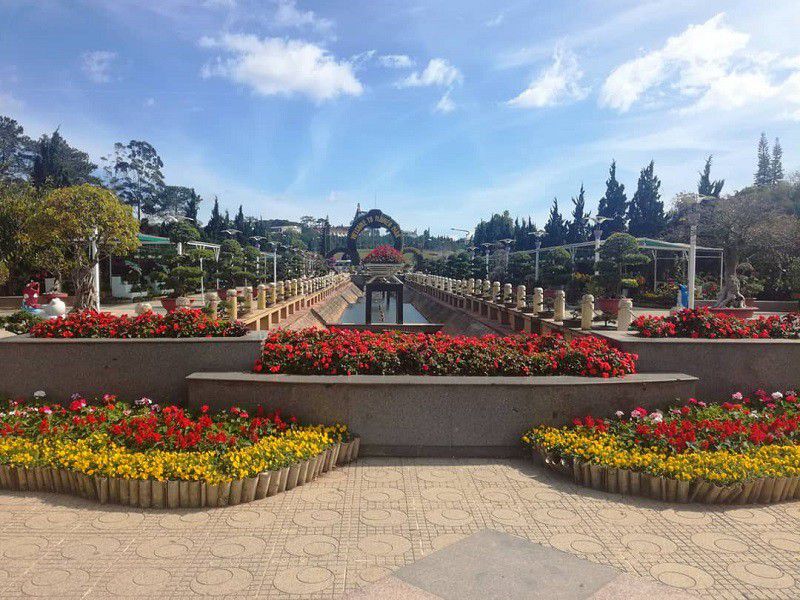 Da Lat Flower garden is a place to look for the most gorgeous kinds of flower in Dalat and in the world. Annually, It attracts a vast number of tourists when the Flower festival Dalat takes place.
The map of Dalat flower garden
The Garden covers 7000 square kilometres so Visitors may miss some attractive spots in the garden:
C: Flower garden Entrance. It has only single main gates with 2 walkways. You will buy a ticket and go through either of these ticket gateways.
B: Parking area. You will park your vehicle in this area, including motorcycles, bicycles and cars. Parking ticket is 2,000 VND/motorbike, 10,000 – 30,000 VND for cars from 4 – 45 seats.
T: Exit. You have to this way.
T: The area where have pigeon-house and many of the old trees.
E: This is the dining spot of Tam Chau restaurant.
TT: The main area of ​​the city flower garden, the two sides were arranged quite similar and in the middle was the water fountain.
P: This is an area where shooting service is available with horse carriage and photo rental equipment.
W: Restroom area.
G: Display area, trade souvenir and seedlings.
V: Garden area planted roses in a greenhouse.
H: The lake area, if you have children, you should pay attention to this area.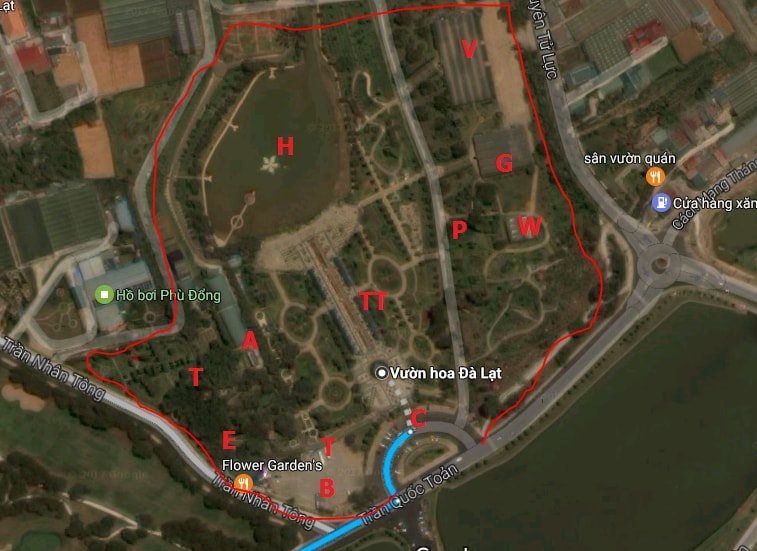 The flower garden will open at night
In the morning of 25/5, the People's Committee of Da Lat City officially decided to open the flower garden of Dalat city at night from 18:30 to 22:00 every Friday and Saturday nights.
Despite increasing many entertainment services for visitors at night, the entrance ticket price remains the same price (50,000 VND / adult and children 25,000)s
What does the Dalat city flower garden have?
When it comes to Dalat flower garden, everyone would think of many diversified flowers, blooming together for four seasons. When travellers visit this place, you can take memorial photos with relatives, next to the colourful sepals.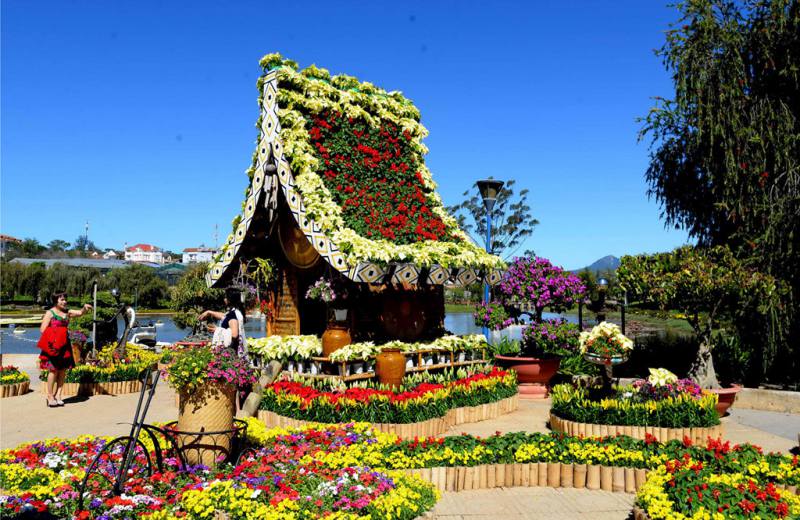 Going through a round of Flower garden, you will feel the beauty and charm that each flower brings. For those who are passionate about flower research, flower caring or photography, it is definitely not to be missed this place when coming to Dalat.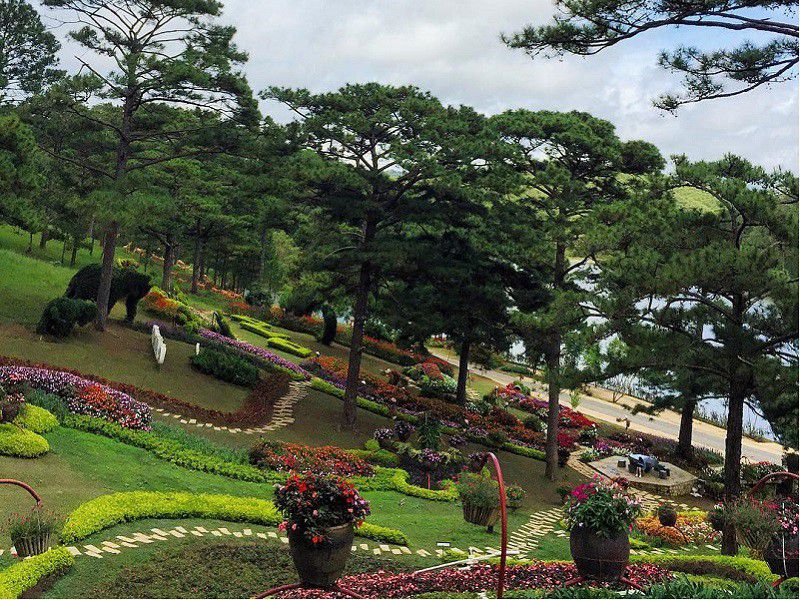 A wedding album full of flowers is also a unique and romantic idea for couples. Be creative and save the best memories at Dalat Flower Gardens – A land of flowers.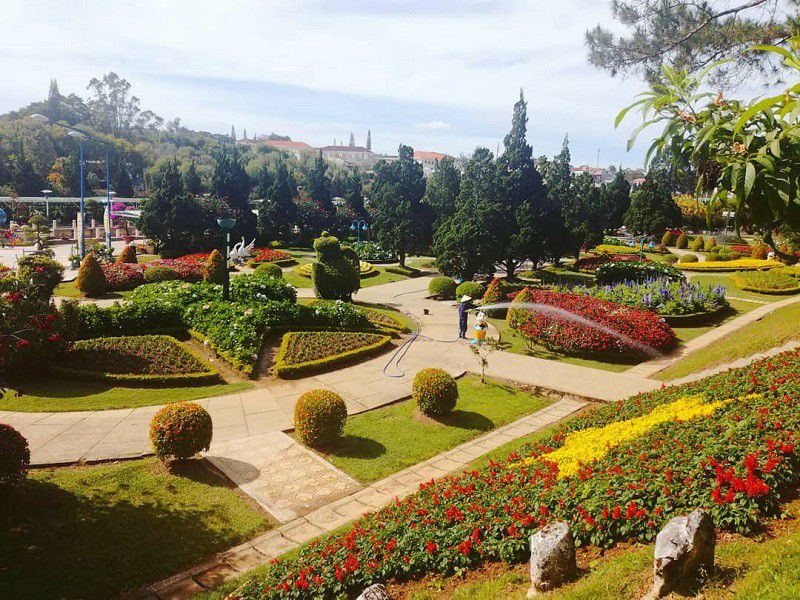 Some notes when you visit flower garden
For a full experience visiting the flower garden in Dalat, you should keep in mind the following notes:
To discover all beauty of the garden, you should go in the morning or late in the afternoon when the sun is not too strong.
The garden of the city is very large, try to go all. Especially the rose garden, the venue for selling seeds and seedlings, it is on the hill in the right corner of the city flower garden.
At the gate of the city's flower garden, there are some people enticing the visitors into buying jam and strawberry at the garden. You should reject cleverly
Inside the city flower garden, there are deep fountains and lakes, Please keep your children's attention
Things like miniature stilt houses, horses and chariots … If you want to take photos you have to ask the owner in advance because there's a fee for this photography service.
When taking photos immediately, you have to choose the picture and clearly tell the photographer you will take it. If not, the photographer will print all the pictures that have been taken.
Visiting Dalat Flower Park on Tet holidays or flower festivals, tourists will have an opportunity to admire the collection of flowers, bonsai, with diverse types and colors of bonsai artists in Dalat city. Dalat Flower Park thus has played an important role in promoting tourism in Dalat, attracting the great number of domestic and international tourists.