Lam Vien Square is a crucial construction of Lam Dong Province and it was constructed over 6 years. When it officially opened, it attracted a lot of attentions from who were addicted to travelling Dalat. Square is considered as a heart of the city. It becomes a pit stop for thousands of tourists whenever they come to Dalat. What makes it so attractive? In this blog AGO will introduce something about Lam Vien Square so as to let tourists know more about this beautiful artificial wonder in Da Lat.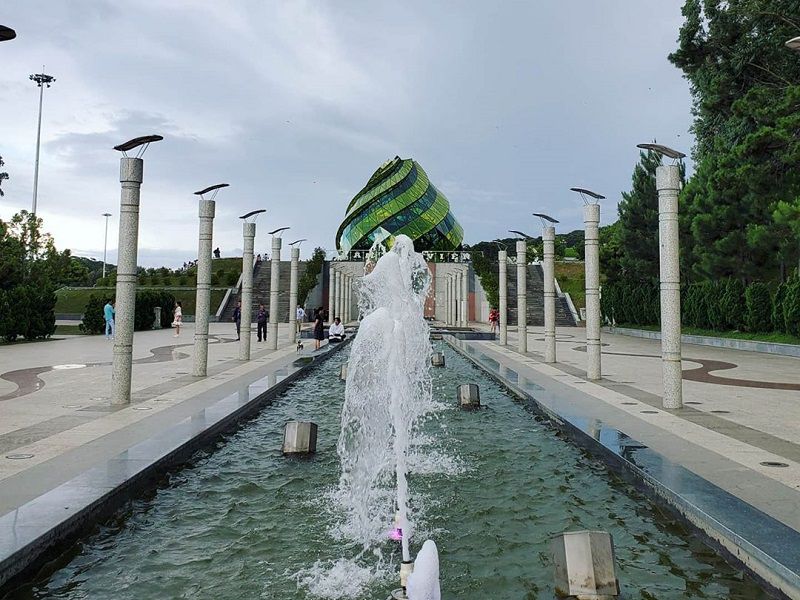 Introduction about Lam Vien Square
The square was built by Ho Xuan Huong Lake. It is one of the most famous destinations of Dalat because of its natural beauty and its special architecture, such as giant Wild Sunflower, colorful glass-based Artichoke Flower Bud. Moreover, amusement park and shopping mall in the square's basement is really impressing.
Where is Lam Vien Square?
Area: 72.000 m2
Open time: 5:00 a.m. – 11:00 p.m.
Entrance ticket: free
The square also attracts so many international tourists' attention. It is located in city center, so it is considered as a heart of Dalat. That is the reason why its construction is so unique and become a highlight of the thousand flowers city.
Lam Vien Square's Address
Its address is on Tran Quoc Toan Street, One Ward, Dalat. The distance from Da Lat Market to Lam Vien Square is about 1.5km, and it is an easy route.
The square is quite spacious with over 72.000 m2 in area. Additionally, because it is in city center, it is not too hard for visitors to find out.
The picture below shows how to get to Square from Dalat Market (Google Maps):
The visitors whose first time in Dalat can go to downtown area and go along Ho Tung Mau Street or Tran Quoc Toan Street so as to see the square appear before their eyes.
Architecture of Lam Vien Square
The square's architecture consists of 4 large constructions: theatre, park, square and mall, and exhibition area. The square has a capacity of 60,000 which is an impressing number. Main house block is in shape of a wild sunflower and made of fancy stained glass.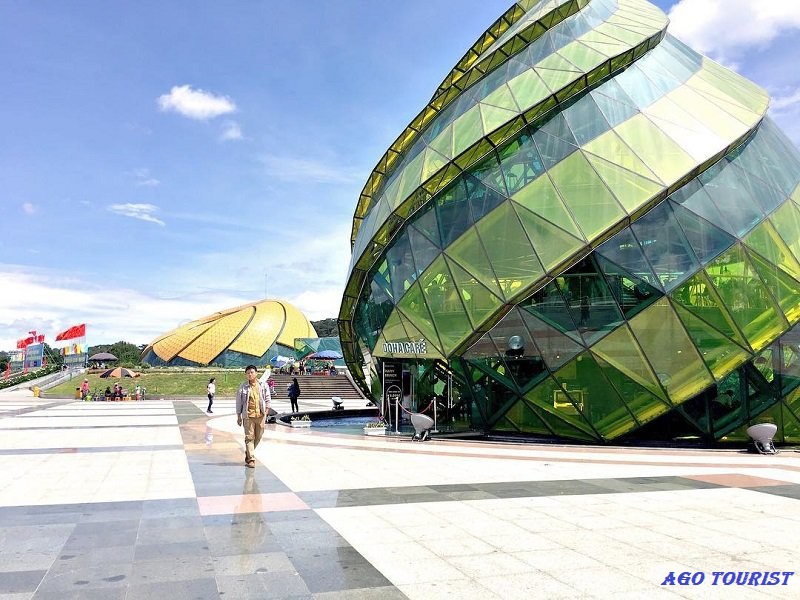 Surrounding area of the square is decorated mainly with well-known fresh flowers of Dalat. It has a view towards Ho Xuan Huong Lake, therefore, visitors can find it comfortable to wander and enjoy its architecture.
See more: Villa for rent in Da Lat
What make Lam Vien Square attractive?
Because the square is a highlight of the city with a purpose to develop tourism, it has high technical and artistic elements in order to attract a large number of visitors.
Because of these special features, many of them who have been to Dalat is still curious and want to come back. They want to find out what special features Lam Vien Square Da Lat has that makes so many people flock to it to snap photos.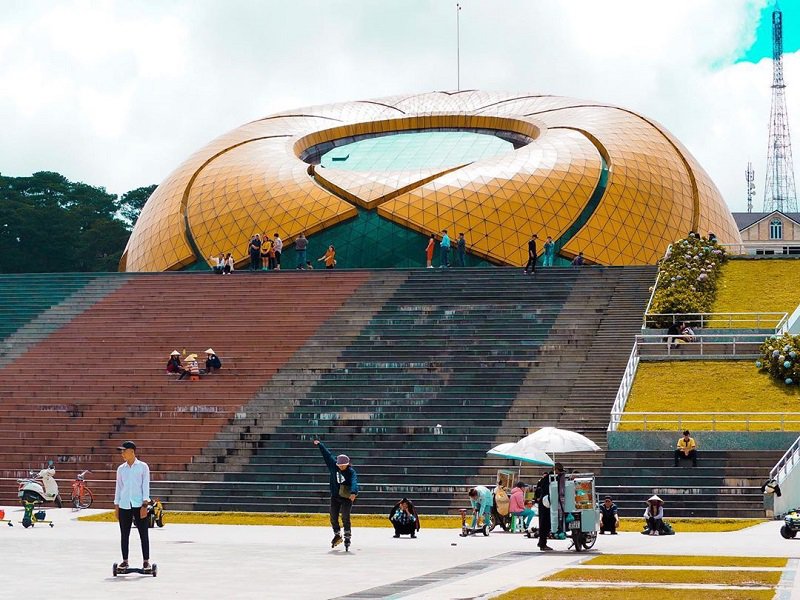 The square makes a strong impression on visitors with many spacious play spaces towards Ho Xuan Huong Lake. Two glass-based constructions which are considered as current architectural masterpieces are Wild Sunflower and Artichoke Flower Bud constructions.
Giant Wild Sunflower
Wild Sunflower is over 18m high with an area of 1,200m2. The interior is a performing art stage with a capacity of 1,500 seats. Besides, there are coffee shop and bar beautifully designed inside.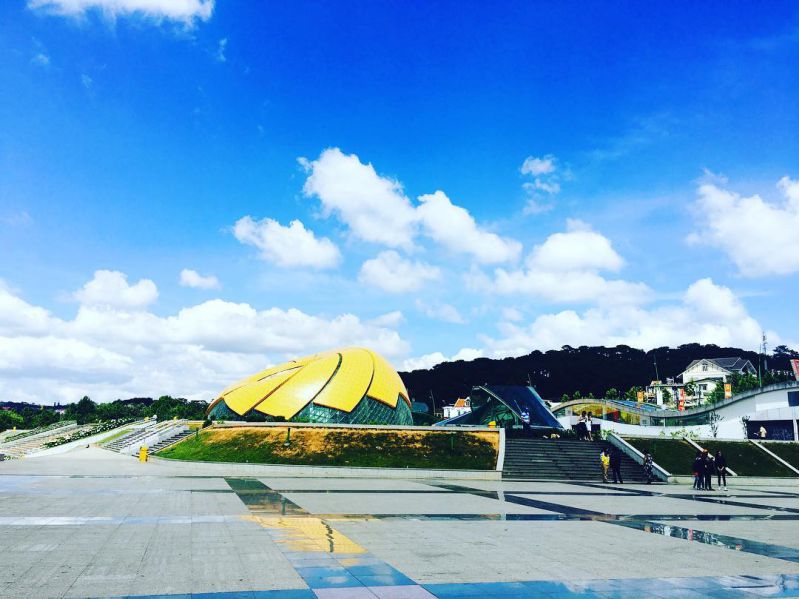 This flower symbolizes the beauty of overcoming difficulties and obstacles. At the end of November, wild sunflowers will bloom in every Dalat's street, which is one of the symbols of it.
Wild Sunflower in Lam Vien Square is uniquely designed. The petals are fitted yellow stained glass, which hug a domed house. The pistil is tilted at an angle just enough for visitors to see the whole image of a wild sunflower in the middle of the square.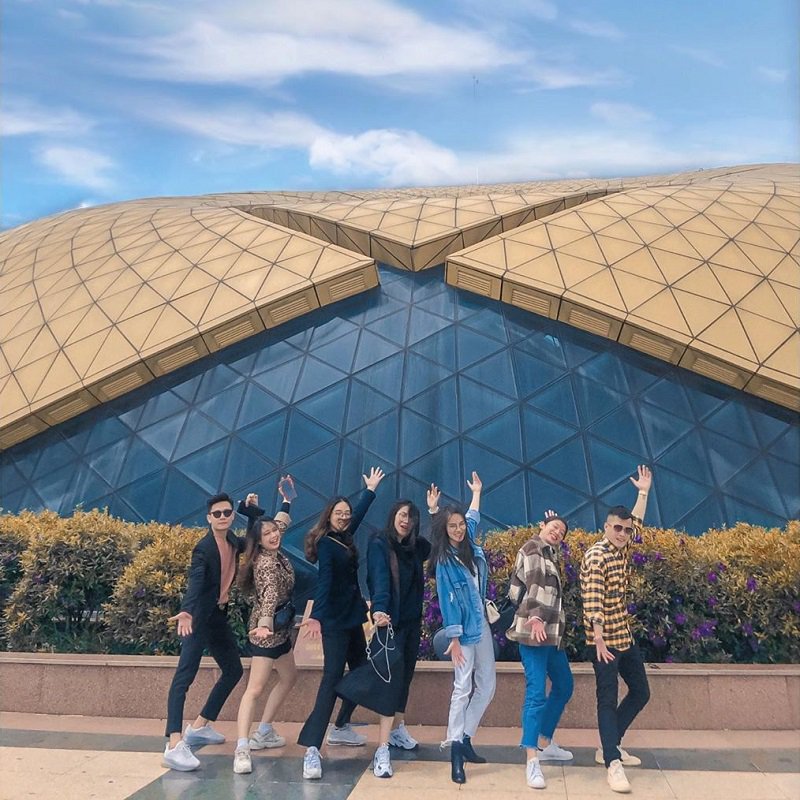 The rest of this construction are fitted green stained glass so that people can find it easy to see inside it. This is a construction having a groundbreaking idea which creates appeal for the square.
See more: Dalat tour quality and cheap price
Artichoke Flower Bud
Artichoke flowers are one of the most economically valuable flowers for local people. Also, it is the second symbol of Lam Vien Square Da Lat.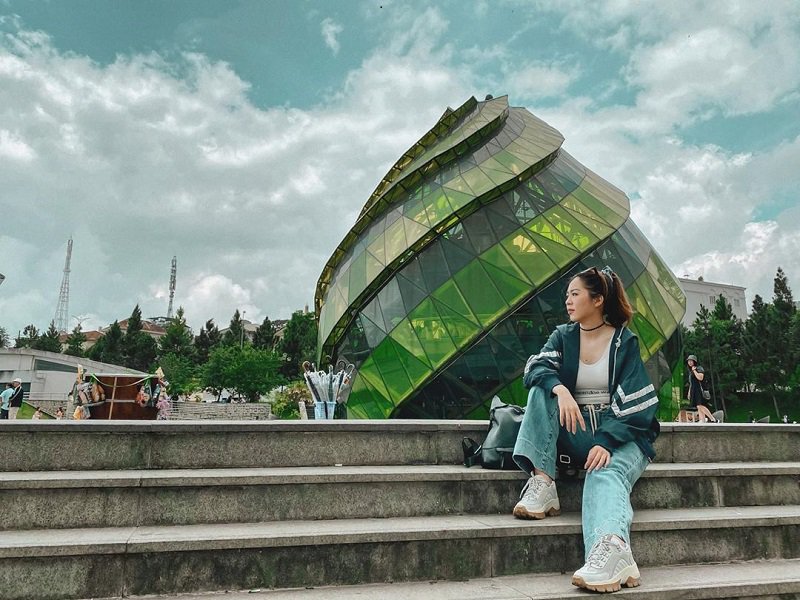 Artichoke Flower Bud in Lam Vien Square is 15 m high with an area of 150m2 and is made of beautiful stained glasses. Especially when tourists come to Square at night, they will find out inside of this construction is one of the most stunning coffee shop in Dalat.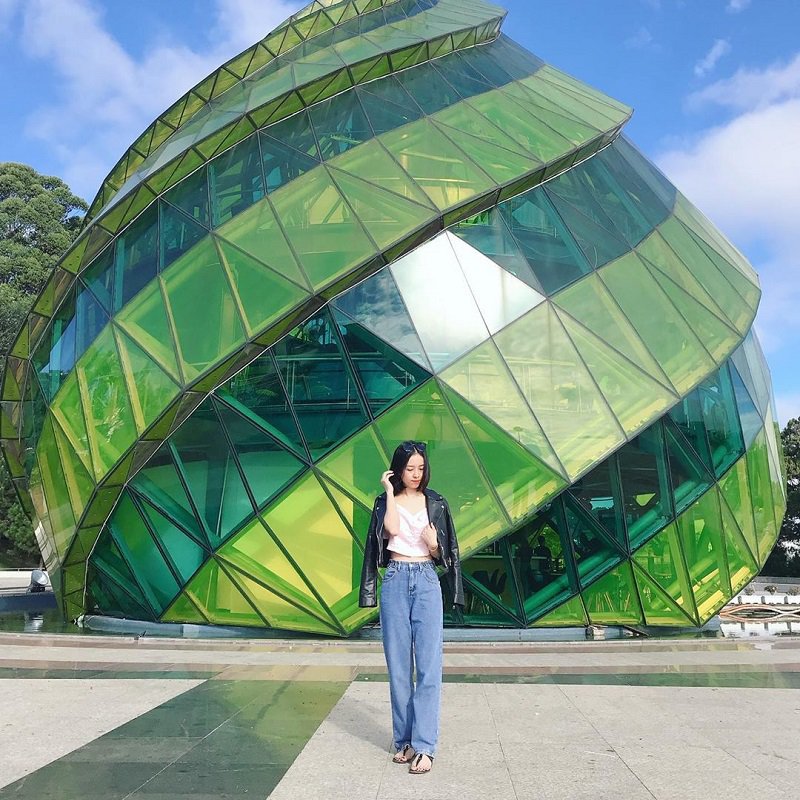 Artichoke Flower Bud is designed according to the image of an artichoke flower when it has a bud. The stained glass panels covering the flower bud has two main colors: yellow and blue. These panels are mounted and arranged in helices from the base to the top of the flower bud.
Some fun activities at Lam Vien Square
At the square, the tourists can visit the commercial, amusement and rollerblading areas. In addition, they can enjoy flying kites because it has a spacious and windy place.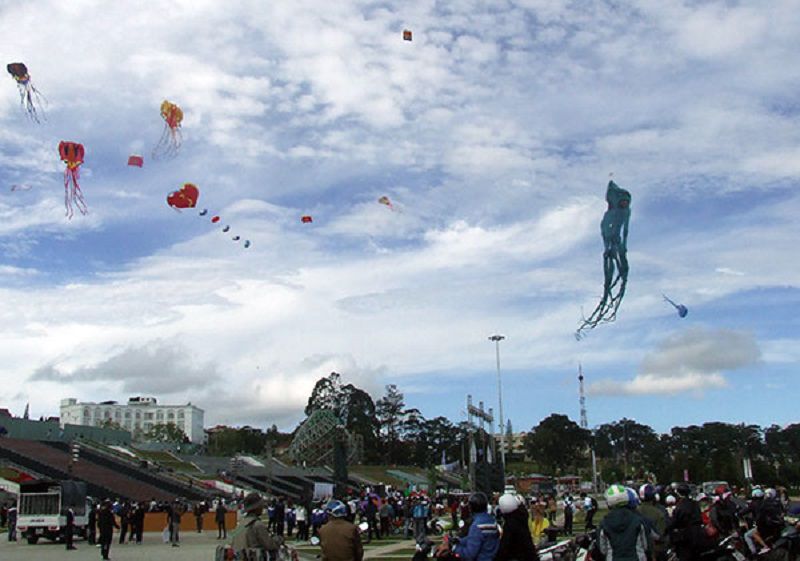 When night comes, it's time for the city to light up. At the same time, the tourists will see a gorgeous and shimmering scenery with an attractive art fountain and melodious music. Therefore, they will figure out a difference between the city's nighttime and its daytime. That's is: Dalat is peaceful at nighttime but bustling in the daytime.
With poetic beauty and unique architecture, coming to Lam Vien square Da Lat you will have memorable experiences, and extremely unique photos for yourself. So, when traveling to Da Lat, you should not miss this attractive place.