Farms tour – daily Dalat garden tour
Daily Dalat garden tour or farm tour, this tour will take you visit some hydroponic farm, many famous flower fields and many strawberry gardens.
Some interesting place in tour:
King Palace 1

The giant pumpkin garden and fresh vegetable garden of hydroponic technology in Dalat

Lavender fields

High technology strawberry garden

Cau Dat Hill farm  

Hydrangeas field

College of Education Dalat
Price: 300.000VND/1 person (12.89USD/1 per)
Including:
The Dalat garden tour price is included some fee:
Bus is so new, clean

Tourguide is so nice, enthusiasm

All tickers fee in tour

Free water

Travel insurance 20.000.000 VND
Not included:

Tour price is not included lunch fee and VAT fee (not add VAT if don't get VAT's bill)
General rules
Kid:
Under 1m: free

From 1m to under 1,2m: 50% tour price

Up to 1,2m: adults price
Foreigner
Not additional charge with foreigner

Tour price is not increase with foreigner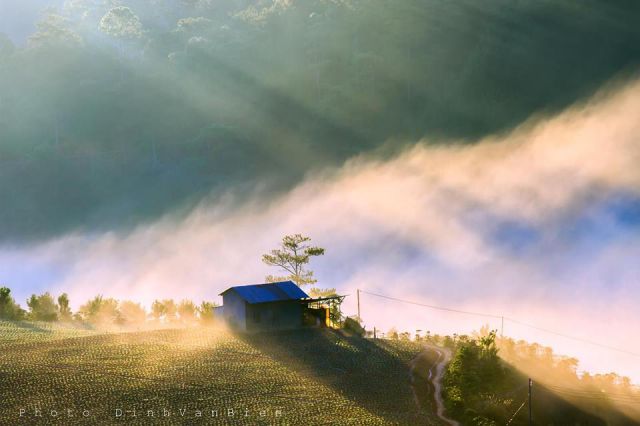 Progame details inDalat Garden tour:
Dalat Garden tour is transplanted-tour, daily departures.
We have bus to take you at your hotel, and then we will go from 8:30 am to 4:30pm every day.
Begining and taking guest
8:00am: tourguide will contact to the guest, preparing to departures.
Our bus will take you all at hotel, cafe shop or everywhere you booked.
8:15am: Tourguide begin to take you in the bus, departure one day garden tour.
Dalat garden tour's schedule:
Depending on the weather, to be suitable, the ordinal of places will be change. But it is ensured the number of places in tour.
8:30am:

King Palace 1
The first place is King Palace, it is also the new place, which was opening to visit in Da Lat, Bao Dai Palace 1. Palace is designed splendid and famous with two cedrus tree lines in entrance.

9:00am Visit fresh vegetable garden of Dalat hydroponic technology 
A interested place in tour is fresh vegetable garden of hydroponic technology Da Lat. Fresh vegetable is farmed by hydroponic high-technology. Coming here, you can eat fresh vegetable at the garden but don't need to wash them, because of their fresh.
Dalat farm tour
In the garden, there is Pepino melon, which is imported from Japan, sweet and delicious taste.
Beside, we can visiting, taking photograph at the giant red pumpkin garden, it is so famous in Dalat.
10:00am: Visiting lavender field in Dalat
All of you can check-in, take photograph with lavender free. It's so romantic.

11:00am. Going to high technology strawberry garden
The next place is high technology strawberry garden, you can take photograph to check-in at the garden and buying strawbery for gift.
If you find strawberry tour in Dalat, this tour is all things you need.
12:00pm Lunch, have a rest
Bus take us to restaurant to have lunch. Lunch price is not included in tour.
Bus will stop at the restaurant, you eat lunch and pay yourself.
In the afternoon, we will visit some farm in the suburb of Dalat
14:00pm Visiting Cau Dat TeaHill farm
Cau Dat tea-hill, the most beautiful farm in Dalat. Check-in here, you can take many so deep photographs with green tea-mountain.
If you get this tour in October, we will take you visiting Dalat persimmon garden
15:00pm Visiting Hydrangeas field
With more than a milion square meters, from the mountain view to the valley,  hydrangeas field is the interesting place for many people, who like taking photograph.
16:00pm: the final place in tour – College of Education Dalat
College of Education Dalat, one of famous and representative places in Dalat city. This is a place, tourists must check-in.
16:30pm Finish one day tour of Dalat garden
Tour guide take you come back hotel by bus. Finishing tour,
Say goodbye and see you again.
Please contact to booking by hotline: 01298211222- 02633588222 (Diệu)
Ago Tourist is pleased to serve you a great experienc