One day tour to visit 3 most beautiful waterfalls in Dalat
Pongour waterfall tour is one of the cheapest daily tours to visit 3 beautiful waterfalls in Dalat.
Dalat is famous about wild unspoiled nature and fresh cool climate. Many highland valleys and waterfalls are given by nature.
This journey will take you to three famous waterfalls here. Start the trip is Pongour Da Lat waterfall, also known as seven-storey waterfall with majestic beauty bestowed by nature. Elephant riding, ostrich riding at Prenn waterfall resort. Settle, quiet, enjoy coffee at Me Linh Coffee, Ta Nung Pass.
Traveling with Ago Tourist  we will give you a wonderful and unforgettable experience.
Highlights of Pongour waterfall tour – 3 waterfalls tour
Admire the majestic beauty of Pongour Dalat waterfall. Pongour waterfall was named Nam Thien De Nhat waterfall.

Have a lot of funny, experience elephant riding, ostrich rides at Prenn tourist area – visit Prenn waterfall.

Scenic sightseeing on Ta Nung Pass road, one of the most beautiful pass roads in Dalat. The street is always on the list of young people who are passionate about traveling.

Visit the majestic, listen to the screams of Elephant Falls.

Settling in space 360 degrees view of Me Linh coffee.

Enjoy weasel coffee – the world's most delicious and expensive coffee.

Visit the mink farm, produce famous mink coffee right at Me Linh coffee.

Photographed "so deep" with fields of mustard flowers and sunflowers.
General information of 3 waterfalls tour – cheap daily tour in Dalat
Time:
Departure at 8:00am, ends at 4:30pm daily.
8h: welcome guests, depart to Prenn waterfall (elephant riding, ostrich, boating, …)

Continue moving to Pongour waterfall – admire Nam Thien De Nhat waterfall.

Lunch at Duc Trong district.

Through Ta Nung Pass, visit Elephant Waterfall, enjoy Me Linh Coffee.

Visiting, taking photos at sunflowers garden.

Tour is ending at 4:30pm.
Tour can change the schedule, time and place of visit depending on the weather and the actual situation to ensure safety for visitors.
Tour price:
Only 390,000VND / 1 person, no surcharges arise. Additional 50,000VND / person if toured the day before.
Tour price includes:
Car pick you up at the meeting place, hotel.

Tissue, bottled water on the car.

Tour guide, dedicated service throughout the process.

Entrance ticket.
Tour price does not include:
Personal expenses outside the tour's program (sailing costs, elephant riding, ostrich …).

Food cost.

Tax
Tour booking: 0828.211.222 – 02633.588.222 (Ms. Dieu)
Please contact us directly to get a good price for team.
Detailed program in 3 waterfalls and elephant riding tour:
Prenn tourist area – Prenn waterfall is so charming
8:00 am, depart to Prenn tourist area – visit Prenn waterfall.
What can we play at Prenn waterfall area?
Visitors can follow the roads leading to the zoo, the orchid garden or relax in the heel of the garden watching the blooming flowers, the huts on the trees or swinging with the suspension bridge across the small stream.
In another corner, Thai Duong's rock garden with an improvised arrangement creates a pleasant surprise.
The sound of water pouring, the sound of the forest birds chirping, the noise of the wind makes the pine branches stir. Together creating vibrant sounds like the cheerful music of the spring girl is coming to welcome the footsteps of visitors. Beneath the waterfall, each wild petal shimmering, making the landscape become more charming.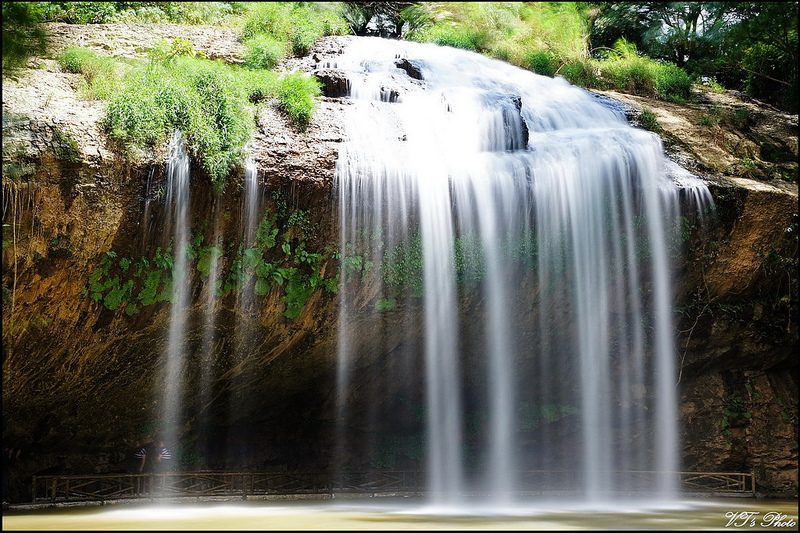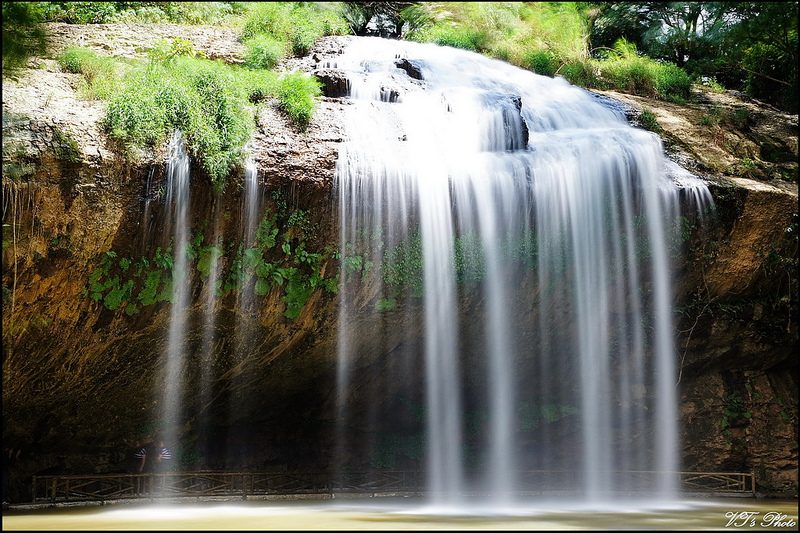 Be able to watch and enter the waterfall, you can rent a pontoon boat, cost 35,000VND.
Boating at Prenn resort – Pongour waterfall tour – 3 waterfalls tour in Dalat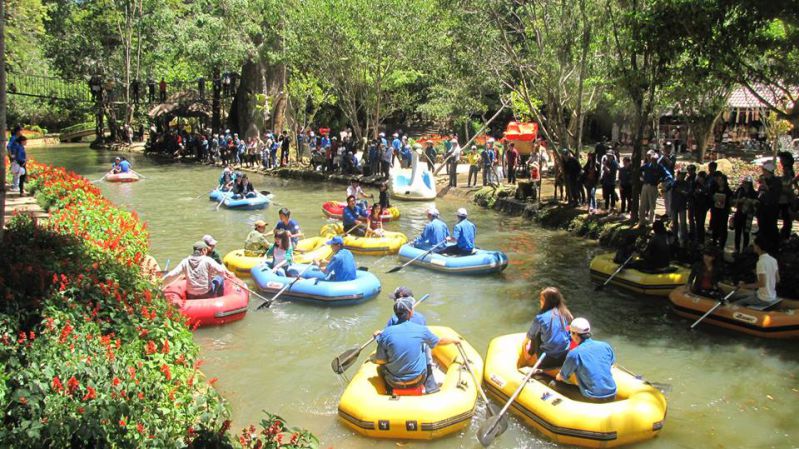 Riding elephants and ostriches
If you love taking photos and thrilling game, you can try riding elephant or ostrich riding at here.
Riding elephants at Prenn resort – pongour waterfall tour- 3 waterfalls tour in Dalat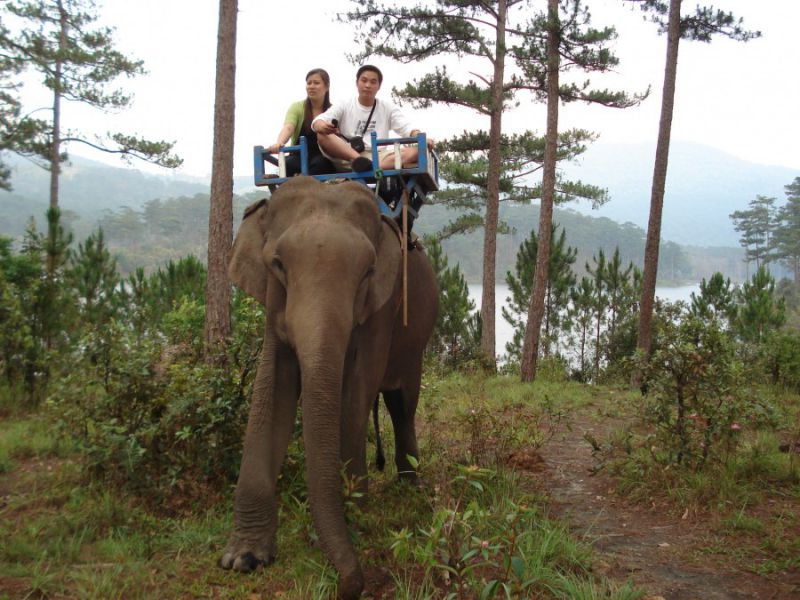 Crossing the waterfall by cable
Especially, by the cable car system visitors can cross the waterfall in the feeling of adventure, seemingly going into the fairyland…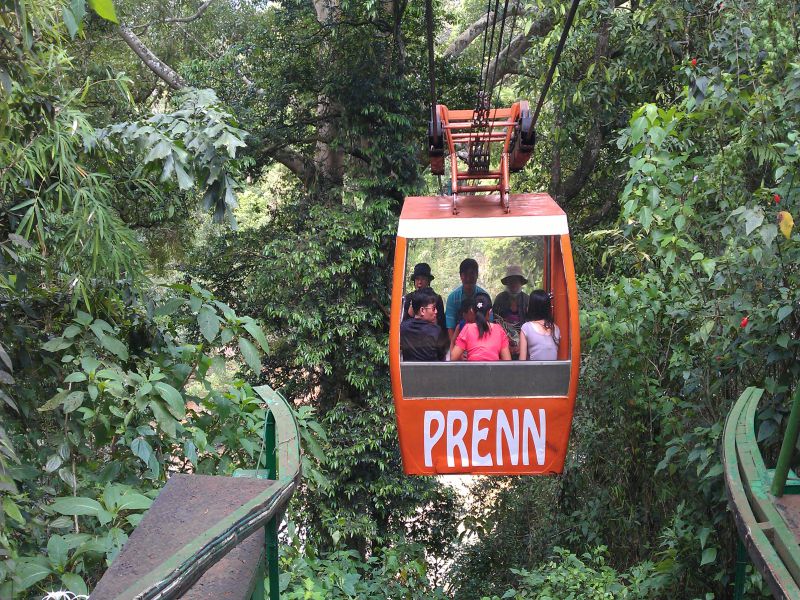 Pongour Waterfall – the majestic beauty of Nam Thien De Nhat waterfall.
Pongour waterfall is also known as Nam Thien De Nhat waterfall. This is the biggest waterfall in southern Vietnam. The waterfall falls from a height of over 40m and stretches over 100m. Look at the waterfall like a strip of white silk and erase a cliff.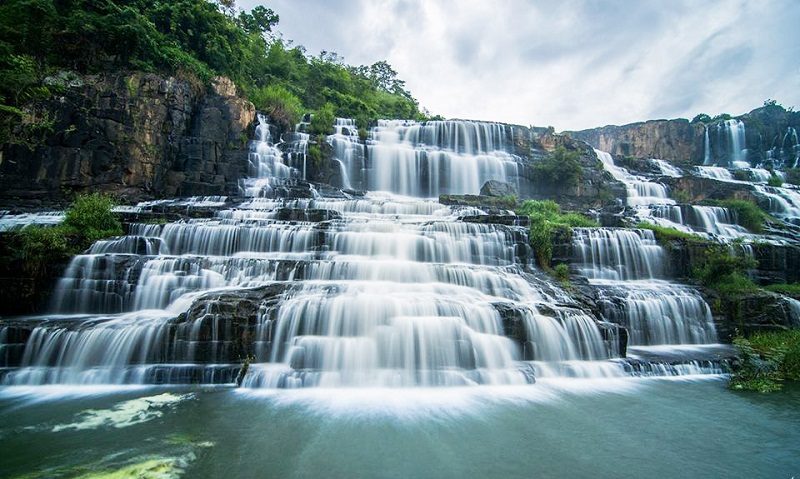 If you take a tour in late October to February, you will have an opportunity to admire one of the most beautiful Da Quy flower streets in Dalat. On both sides of the road to Pongour waterfall this year the wild flowers bloom all the paths and hills on both sides.
The natural landscape here is still preserved. Surrounding the waterfall is a primitive forest with an area of about 2.5 hectares with diverse and abundant vegetation. There are many old trees here and there are many animals. Looming somewhere you can catch the beautiful orchid baskets.
Me Linh Coffee Garden – Worthy of the top 1 nice cafe in Dalat, is a destination not to be missed, along with sunflower gardens and mustard flowers
Coming here, you will admire the scenery ahead. "View 360 degrees" is the word used to describe the scene there. Because of sitting and watching the valley in the distance, there are interconnecting pine trees in the wind. Moving away from the eye a little more will be a rolling hill, you want to look far away from the scene that will stretch far away.
If you are bored, you can go down to visit the garden and the process of making mink coffee.
This is considered one of the most beautiful cafes on the outskirts of  Dalat city. Of course, this is also in the top cafe in Dalat.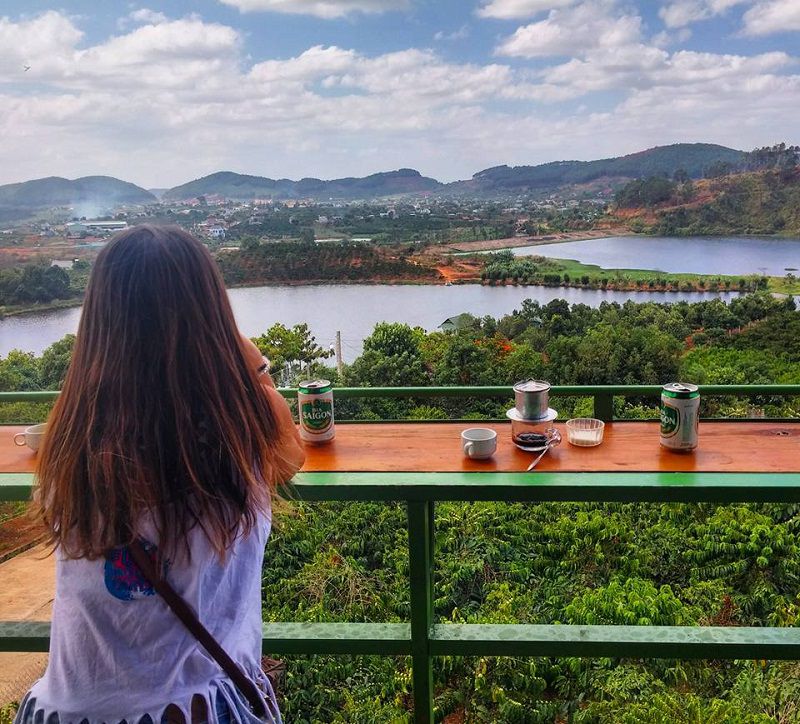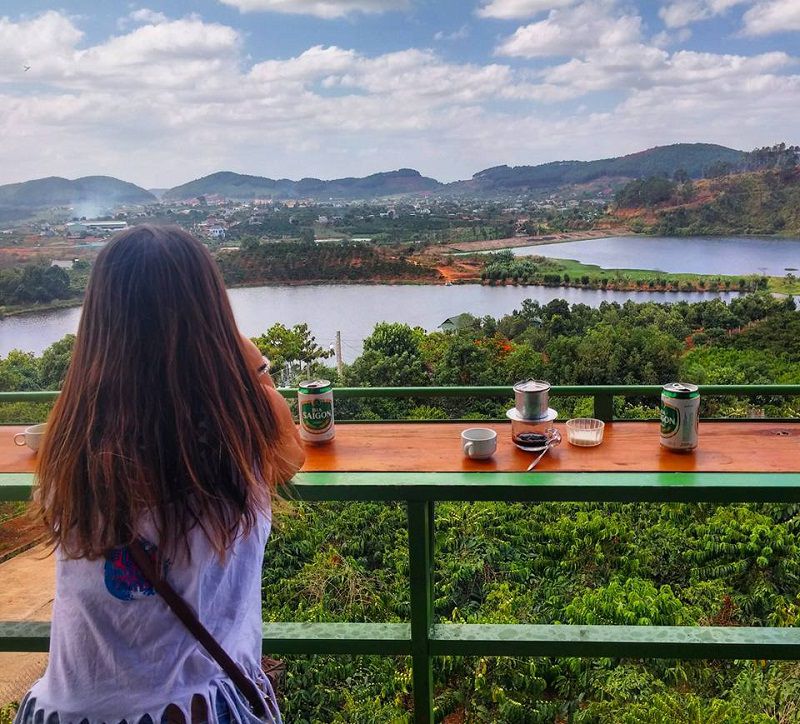 Step across the street is a garden of yellow mustard flowers, sunflowers, … wide, spoiled for living virtual.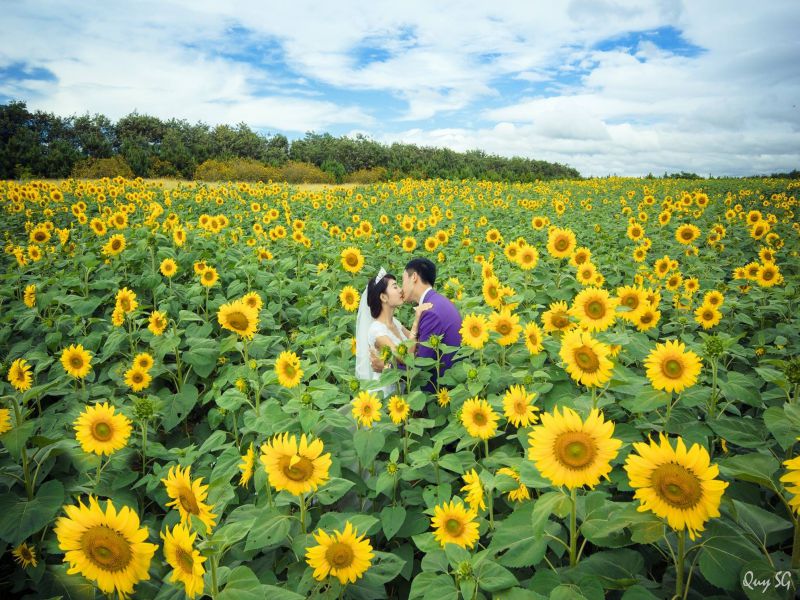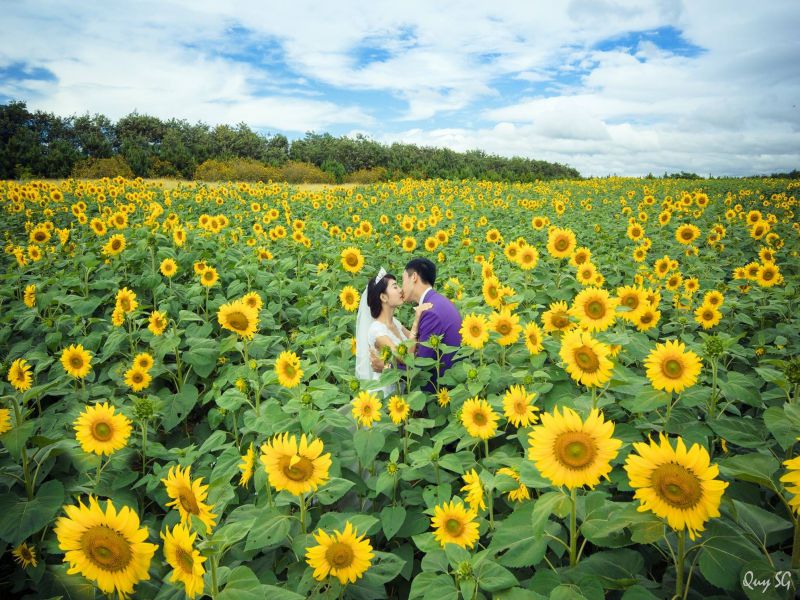 16:30pm: End of tour to 3 waterfalls, elephant riding – Tour guide will take you back to the hotel. End of daily tour in Dalat. Goodbye and thanks guest.
Tour booking: 0828.211.222 – 02633.588.222 (Ms. Dieu)
Ago Tourist  is pleased to serve you.