Long time ago, Xuan Huong Lake in Dalat was known as the green jewel in the heart of the city. Seemingly, the lakeside green lawns, flower clusters and rows of pine trees embellished poetic beauty of the thousands flower city.
Introduction about Xuan Huong Lake
Xuan Huong Lake is considered as the heart of Dalat and is the start point of abundant main streets in Dalat. Also, it is a famous place-name that represents the beauty of the city, and it is an interesting tourist attraction.
Where is Xuan Huong Lake:
Address: central of Dalat city, Lam Dong Province.
Perimeter: approximate 5 km.
Open time: all day.
Area: approximate 25 ha.
Entrance ticket: free.
When coming to Dalat, everyone surely sometimes wants to roam Xuan Huong Lake on tandem bikes. And then, visiting some cafes like Thuy Ta or Bich Cau cafe so as to enjoy the coffee taste mixed with aromatic grass and let their souls and spirits fly into the lake's water waves.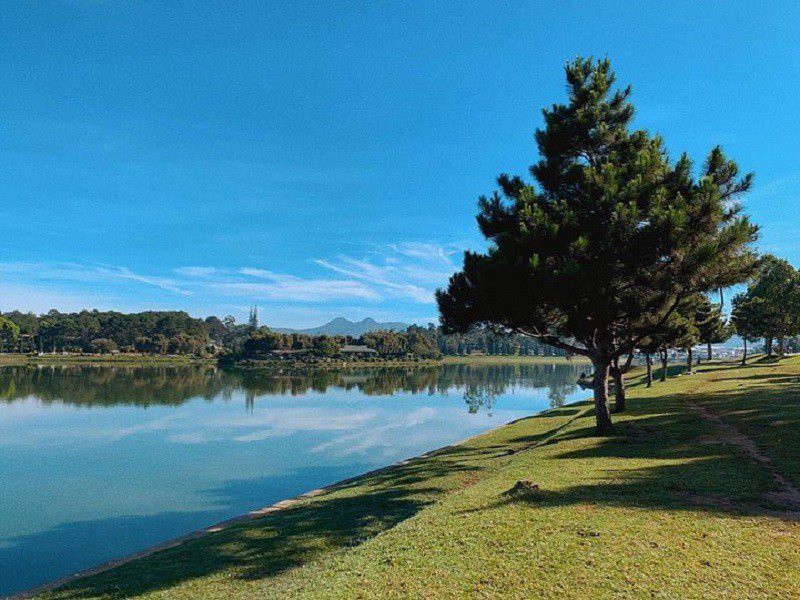 Moreover, whenever spring comes, people can see branches of cherry blossoms blooming and fluttering in the sunshine. A little fresh air will help those blossoms prettier. The lake is also a nice spot for many couples to take wedding photos in the scene of sunrise.
Origin of the name "Xuan Huong"
First of all, you should understand that "Xuan" means "Spring" and "Huong" means "Scent" in Vietnamese. The origin of this name is when spring comes, the lake will have the aroma of surrounding trees and grass. All the aroma blends together and create a faint scent, therefore, it is called "Xuan Huong".
Besides, there are 2 different hypotheses for the name:
1st hypothesis:
The lake was named "Xuan Huong" since 1953 because people wanted to save the image of Ho Xuan Huong – the famous Vietnamese poetess in the 19th century.
2nd hypothesis:
Xuan Huong Lake was formerly a valley had a stream called "Cam Ly" flowed through it. In 1919, the French officially dammed up to form a lake.
At that time, the lake was only extended to Thuy Ta Restaurant. In 1923, the local governments built an additional dam in order to form two lakes.
In March, 1932, there was a storm destroyed both dams. Until 1934, a new and big dam was built under the current Ong Dao Bridge.
The current Ong Dao Bridge was rebuilt on the old bridge foundation on the occasion of the lake's flushing in 2011.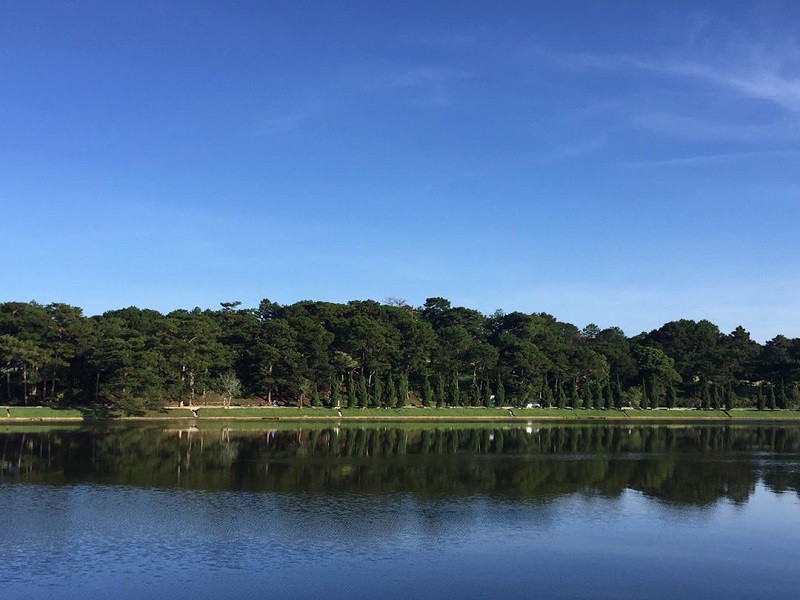 See more: Villa for rent in Da Lat
Xuan Huong Lake at night
One more thing you shouldn't missed is related to contemplating the lake at night. There are lots of couples sitting by the lake so as to enjoy the view and tell their lovers stories.
They hold their lovers' hands tightly to ignore the cold of Dalat at night. If you are lucky, you could also watch the light mist fall on the lake.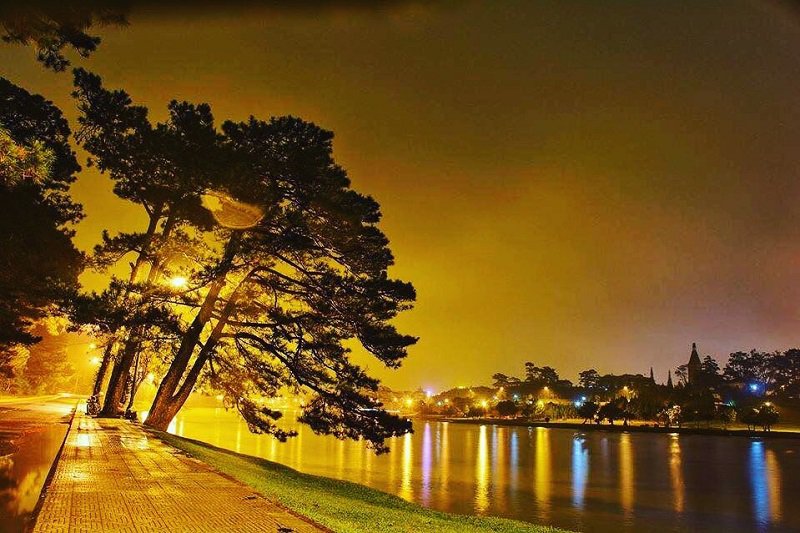 Trust Ago Tourist, if you try to stay up a little late or get up a little early, you will witness this scene. In the early morning, you can go to the lake to feel the breath of the city. Some dew droplets still lingering on the grass by the lake will make you love life so much.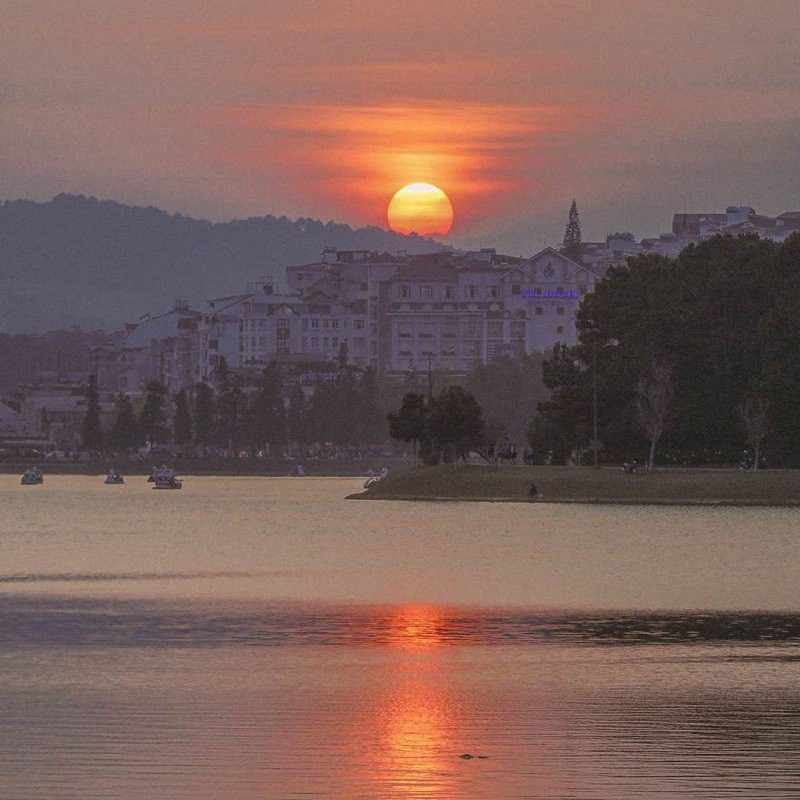 When night falls, you can eat many specialties of the city, such as grilled sweet potatoes, grilled corns, grilled eggs and grilled rice papers.
Some interesting things at Xuan Huong Lake
1. Sailing on the lake
If you want to experience sailing on the lake, you need to go to the marina located at the intersection of Dinh Tien Hoang and Tran Quoc Toan streets. With only 30,000 VND / hour, you can freely admire the scenery and take pictures with your partne.
2. Junk food and night scenery
It is so romantic that you and your partner sit near a charcoal burner and under a canopy of pine trees, eat grilled corns or grilled rice papers, and drink hot milk together in the chilly weather of Dalat at night.
3. Sunrise scenery
Perhaps you already have seen some images about sunrise on Xuan Huong Lake. Especially, you have probably seen romantic wedding photos that taken in the scene of sunrise and thin mist on the lake. That is the reason why you should come to the lake to pay a visit.
4. Horse-drawn carriage rides
Horse-drawn carriage rides will go from the marina to Dalat Flower Garden. When you take a horse-drawn carriage ride, you can go sightseeing around Xuan Huong Lake.
5. Coffee
There are 3 well-known cafes around the lake: Bich Cau, Thanh Thuy and Thuy Ta. The view of these three cafes is really romantic, which you should visit and sip some coffee.
6. Tandem
Do you wonder why Dalat has so many tandems? It is because Dalat has fresh weather and crooked roads around the lake, a large number of people like cycling on tandems to roam around it.
7. Picnic
If you pay attention, you will see that many groups of people have picnics with their friends around the lake. There are numerous empty lands around it, which you could camp or picnic on them. But remember not leave anything on the grass.
8. Firework display
Xuan Huong Lake is chosen a place to display fireworks on New Year's Eve or Flower Festival.
9. Street singers
A fascinating thing in Dalat is that there are quite many street singers. If you are interested, you can register and interact with them.
Some hotels near Xuan Huong Lake
Coming to Dalat without renting a hotel room having Xuan Huong Lake view is a pity. Some hotels near the lake can't help but mention:
2-star hotels: Khai Ngoc, Thien Huong, …
3-star hotels: Pho Nui, Ngoc Phat, Dalat Plaza, Thanh Thuy, …
4-star hotels: Kings Hotel, Ngoc Lan TTC Hotel, …
5-star hotels: Dalat Palace Hotel.
See more: Program tour Da Lat attractive
Ago Tourist wish you a very comfortable trip and happy moments with your loved ones in Dalat!.