Ago Tourist will synthesize all nice big waterfalls of Dalat for your reference. It's flawed if you do not visit to the waterfall once you have visited Dalat Vietnam!
Explore to the Lam Vien Plateau, visit the cold land and foggy city of Lam Dong – Da Lat. You not only can see the flowers, see the headlines, but also you have to admire the majestic beauty of wild waterfalls here. 
Top 9 waterfalls must to see in Dalat
Pongour waterfall Dalat
Datanla waterfalls Dalat
Prenn waterfalls Dalat
Dalat elephant waterfalls
Tiger waterfalls Dalat
Cam Ly waterfalls
Jraiblian waterfalls
Lien Khuong waterfalls
Bobla waterfalls
Top 9 waterfalls in Dalat – VietNam
Pongour waterfall in Dalat
Address: It is located in Duc Trong district, 50km south of Da Lat – on Highway 20.
Entrance fee: 20.000 VND
Other name: 7 floors waterfall. The 7-storey waterfall is named after the water from the top of the tower to the valley to flow through the seven floors natural stone system.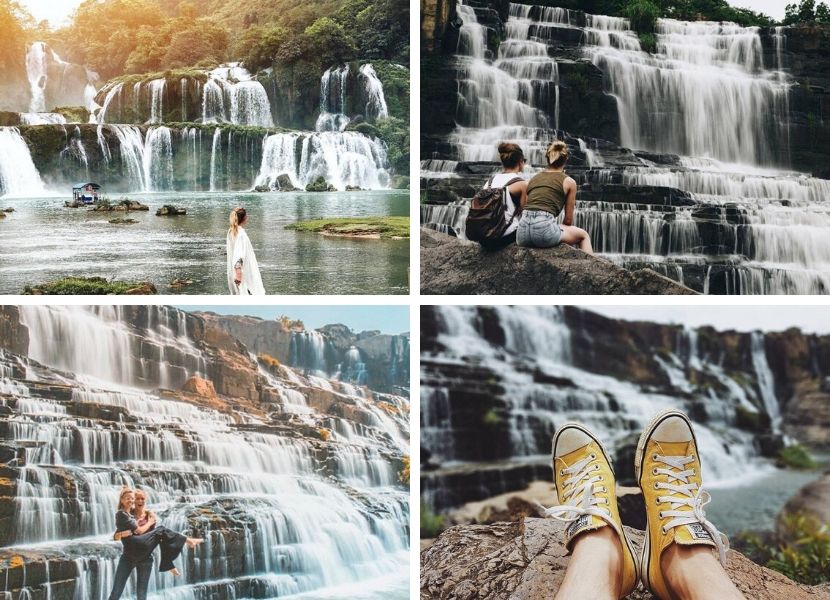 Panorama of Pongour waterfalls Dalat
The name Pongour is written by the French in the name of the native K'Ho, Pon-gou means the owner of the white clay. Because the area around the Pongour waterfall contains many kaolin, manufacture of famous ceramics.
You will come here to walk a stone paved road about 500m to the foot of the falls or can take the shorter steep path about 200m. Come here to sightseeing, be careful.
Pongour waterfall, is a must-see waterfall in Dalat!  This massive cascading series of falls creates a wall of water longer than a football field and infinitely more impressive.  Any single slice of this beautiful cascade could be the nicest waterfall in a country but together can say it just might be the most amazing waterfall.
Address: Located between Prenn pass about 5km south of Da Lat center – on Highway 20.
Entrance fee: 30.000 VND
Many types of entertainment are quite new and attractive
Toboggan rides (1 km): 60.000 VND/adult ; 30.000 VND/child

Canyoning, Adventure, mountain climbing: 1.600.000 VND/pax 
Datanla is a wild waterfall. It is a waterfall from a rocky ridge about 20m high into a deep pool, creating a scenic and dreamlike.
The source of the stream flowing to Datanla waterfalls is Tuyen Lam lake, so the water flowing to Datanla waterfall is stable throughout the year.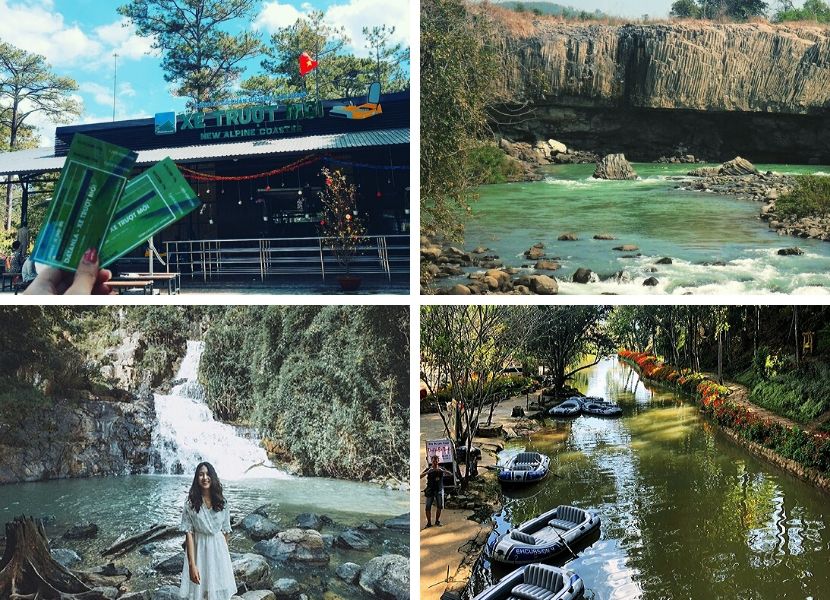 Coming here you will be blended with wild nature, experience the feeling of surfing with the skid between pine forest and flowers here.
Datanla waterfall is still being invested and upgraded to become the hottest tourist destination in Dalat. It is one of many beautiful waterfalls around Dalat.
At present Dalat Datanla waterfall tourist park has opened a second waterfall about 400 meters from Datanla 1, you can use the cable car system or walk along the stream to come here.
To visit Datanla waterfall near Dalat, from the city center you run straight 3rd April street, to the head of Prenn pass, go down the middle of the pass, cross the fork with a large Buddha statue about 100m. Datanla waterfall is located on the right side of the Prenn pass.
Address: Located at the foot of Prenn Pass. About 10km from Da Lat city center.
Entrance fee: 40.000 VND/ adult ; 20.000VND/child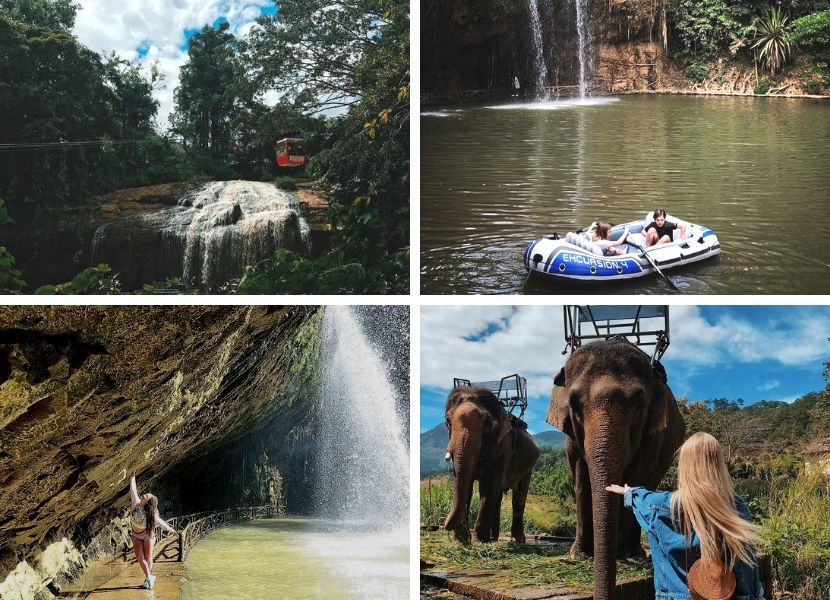 Riding elephant fee: 500.000 VND/30minutes
Prenn waterfall is a complex tourist park, gathering many types for you to experience. This is a large waterfall, higher than 10 meters down a man-made lake. The surrounding is designed by many beautiful bonsai and wooden bridge, suitable to store beautiful moments with family and friends.
Here you can enjoy a variety of recreational activities such as ostrich riding, elephant riding, jeep sightseeing, picnics, camping, and more…
In addition, the summit of the Prenn falls is also a beautiful place, especially to see the entire waterfall, listening to the water is extremely excited. To get to the top of the Prenn waterfall, you can buy cable car tickets (about 40.000VND/per) to experience. 
Address: Located in Nam Ban town, Lam Ha district – 40km away from Da Lat city to the Southwest.
Entrance fee: 20.000 VND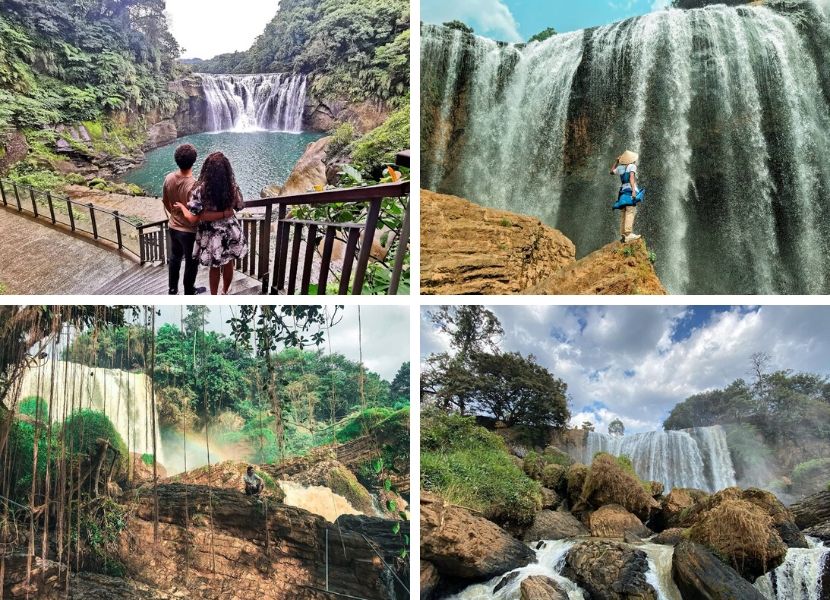 Elephant waterfall is one of the three biggest waterfalls in Lam Dong province. With a height of up to 30m and a width of more than 15m, seeing from far away you can imagine a beautiful white silk strip. This is one of the great destinations not to be missed if you have the opportunity to travel Dalat.
Elephant waterfall Dalat have been upgraded to cater for tourism.
Tiger cave waterfall in Dalat
Address: located in Xuan Tho commune, Dalat city, in National road 20. Away from 15km southeastwards of Da Lat center, take a turning at the km-post No.13 and keep going around 2,7km.
Entrance fee: 10.000 VND
This is a large waterfall, which height of 50m and length by a stream than 100m. It was so famous in 90s. Today, Tiger cave waterfall is degraded.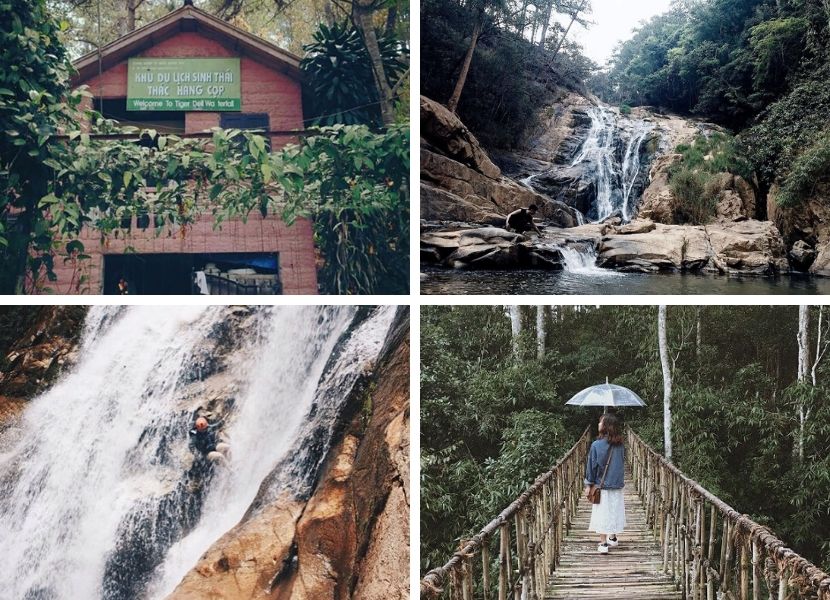 Cam Ly waterfall in Dalat
Address: Situated in the west of the flowers city, downstream of beautiful Xuan Huong Lake, 2km from Da Lat market.
Entrance fee: 40.000 VND
The waterfall is about 30m high, located on the stream of Cam Le. The dry season Cam Ly with peaceful water, quiet as the Tay Nguyen girl gentle, dignified, but in the rainy season screaming waves scattered white areas.
However, this is partly due to the development of new tourist sites and the part of the waterfall is heavily polluted.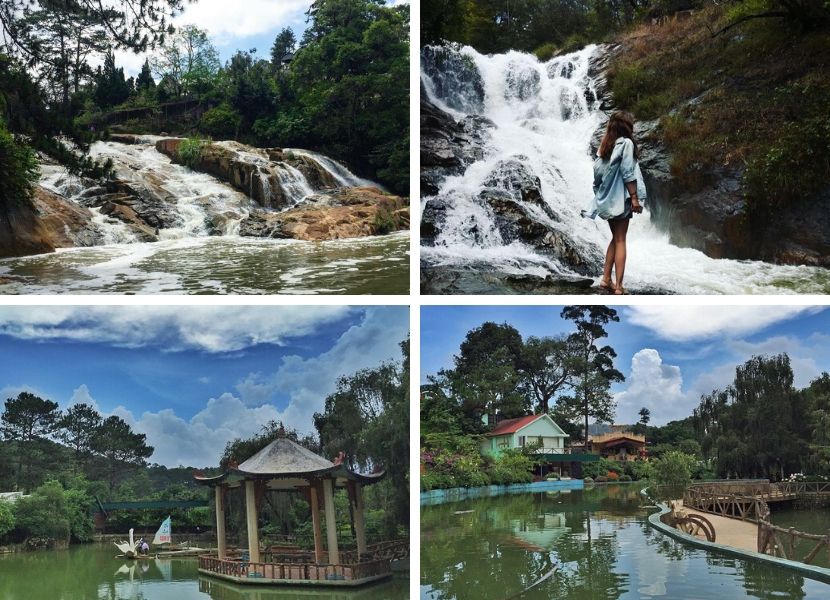 Jraiblian waterfall in Dalat
Address: located in Ta In commune of Duc Trong district, outskirt of Dalat city. 
Entrance fee: Free
Jraiblian was a familiar name that Churu always called this place, it meant the fall of high rocks. Later, it was also called Bao Dai waterfall because that was the place where Bao Dai King used to go hunting. He often stopped there to have a rest after hunting.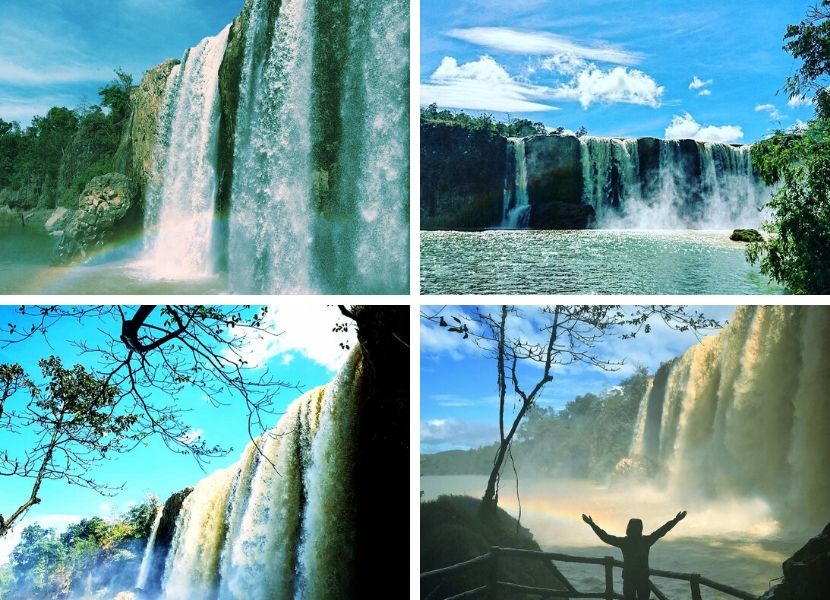 Lien Khuong waterfall in Dalat
Address: Located in Lien Nghia town, Duc Trong district is 500m from Lien Khuong airport and 30km south from Da Lat city.
Entrance fee: Free
The Lien Khuong waterfall in Da Lat has a width of up to 200m and a height of 50m, the most beautiful waterfall in the summer months, when the water flowing here is plentiful flowing over the surface of the top of the waterfall, making it like a strip of silk stretching along the hills looks majestic and poetic.
Recently, due to not being maintained, Lien Khuong waterfall has been seriously degraded, the water flowing to the waterfall has dried up, so the tourist attraction is closed, not serving visitors.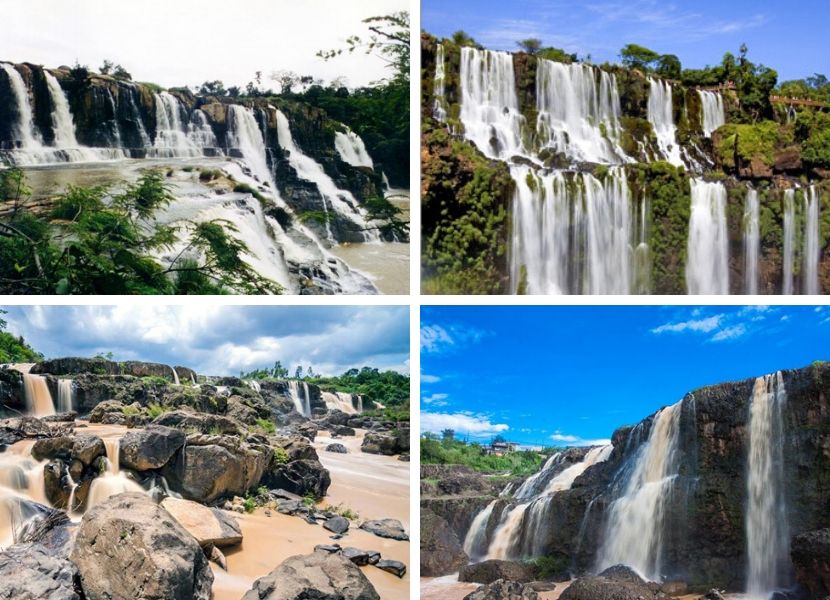 Address: located in Lien Dam commune, 6km from downtown of Di Linh district, beside National road 20.
Entrance fee: Free
Other name: Lien Dam waterfall
It is around 20m wide and 55m high and the white stream flows down onto a deep abyss reflecting its image amidst the blue sky and the plantation of tea and coffee trees. 
Beside, we can see a small lake with many pieces of big rocks like the tables of heavens and ancient-trees which give the shade for the place.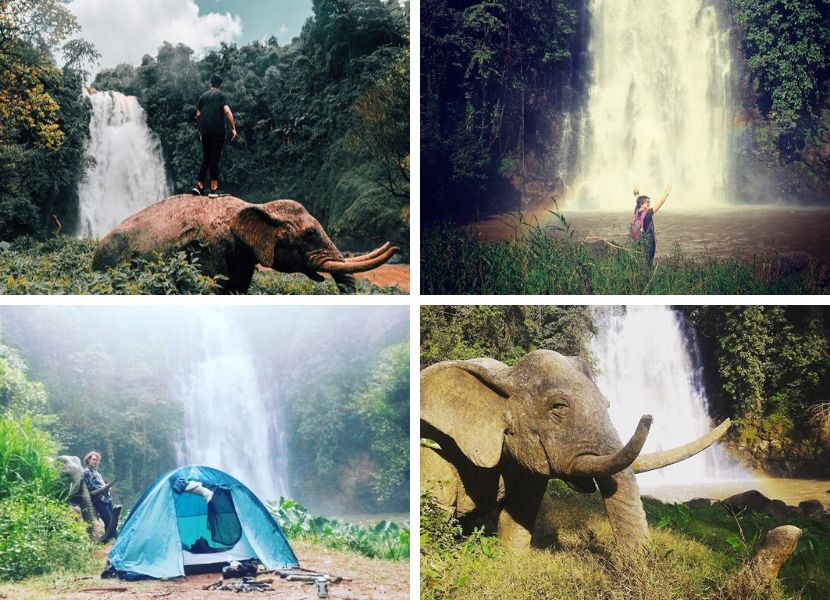 Ago Tourist hope this list of the 9 best waterfalls in Dalat will help you have a good and amazing trip. You also can find more information that we have wrote about waterfalls in Dalat at: here