Dalat has been famous for its peaceful tranquility and a truly amazing place to spend time staying for days in order to enjoy enough attractive destination for holidays. It is also famous for romantic beauty, romantic and lyrical of the city is known as a little Paris in Vietnam. Coming to this land of mountain, visitors spoiled for enjoy the fresh air with cold weather and enjoy the beauty of famous sites or historical sites. Let's go up Robin Hill to discover and experience Dalat cable car, to see the end of the land of this. Dalat cable car is one of many vehicles to take sightseeing from above.
Being well known as the paradise of flowers, tourists are also be appealed by its gorgeous travelling places on land and especially on lake. If Xuan Huong lake is so familiar and easy to reach, Tuyen Lam lake is another masterpiece of the nature combining the beauty of the green forest together with the beautiful silence of the lake. However, having to say, without the existence of Truc Lam Monastery, this lake cannot be one hundred percent wonderful. To reach there, by using boat to sail, tourists can have another choice which is to take a cable car from the Robin Hill and enjoy one of the most charming landscape ever!
Ago Tourist will detail all information and Dalat cable car review through this article.
Overview and development of Dalat cable car in Vietnam
Before 1975, the area of Robin Hill was the place where the Southern Defense Corps system was installed. After the liberation, this hill is planned to build a place for sightseeing, relaxing in the suburbs of Dalat. The cable car line was built on February 3, 2002 and was officially put into operation in early February 2003. Currently, the Robin Hill Dalat cable car is one of the most beautiful place in Dalat city.
Dalat cable car is one of the longest cable car in Vietnam with the most modern technology of Austria and Switzerland with 50 cabins, 2300 meters long from Robin Hill to Truc Lam Zen Monastery.
At an altitude of 1600 meters, visitors will have a strange feeling filled with poetic panoramic view of Dalat city, dreaming, hiding, watching the majestic mountains, merging in the fog. The station arrives is Tay Nguyen ridge architecture, located next to the Truc Lam Zen Monastery. Cable car Dalat Vietnam is an indispensable tourist attraction in Dalat, especially the pilgrimage tours.
This cable car system was started construction on February 3, 2002, inaugurated on January 24, 2003 and officially put into operation on February 1, 2003. It was designed, manufactured and installed by Doppelmayr of Switzerland and Austria. Dalat cable car park is a subsidiary of Lam Dong Tourism Company, a prominent landmark in the Dalat city's new services.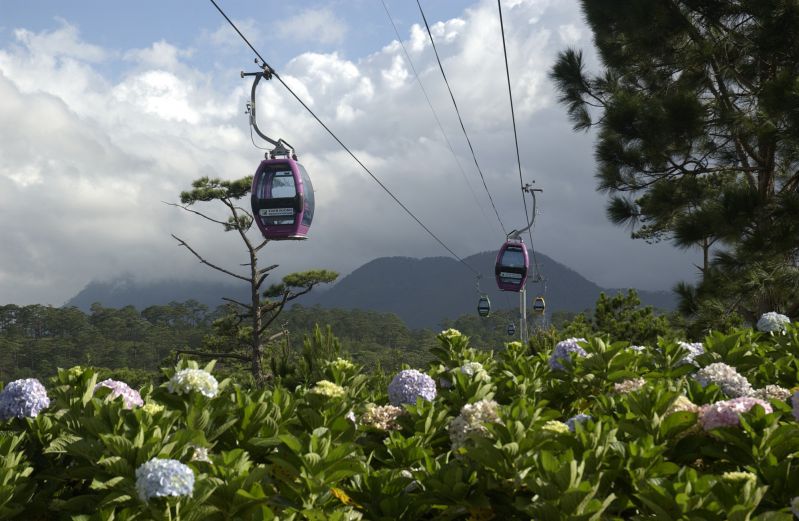 Cable car architecture
The cable car from Robin Hill Dalat to Truc Lam Zen Monastery was installed by Doppelmayr Company of Austria with the most modern technology of Europe at that time.
The length of this cable car is 2267 meters and there are 10 pillars for the cabin to cross over the pine forest. The system has 50 cabins and the distance between them is 120 meters running at a speed of about 5 meters per second. The Dalat cable car time to travel of the 2267 meters length route from Robin Hill to the Truc Lam Zen Monastery Station is 12 minutes. With a total capacity of 900 passengers per hour.
Experiencing this cable system you can enjoy the panoramic view of Tuyen Lam lake, a corner of Dalat city and the majestic Elephant mountain in the south of the city. The cable car travels from a height of over 1500 meters at Robin Hill, which is about 1200 meters lower. The cable car at Truc Lam Zen Monastery station is a built-up terminal with a total floor area of up to 7500 square meters. In addition to a cable car station, there are shopping, souvenir and coffee shops.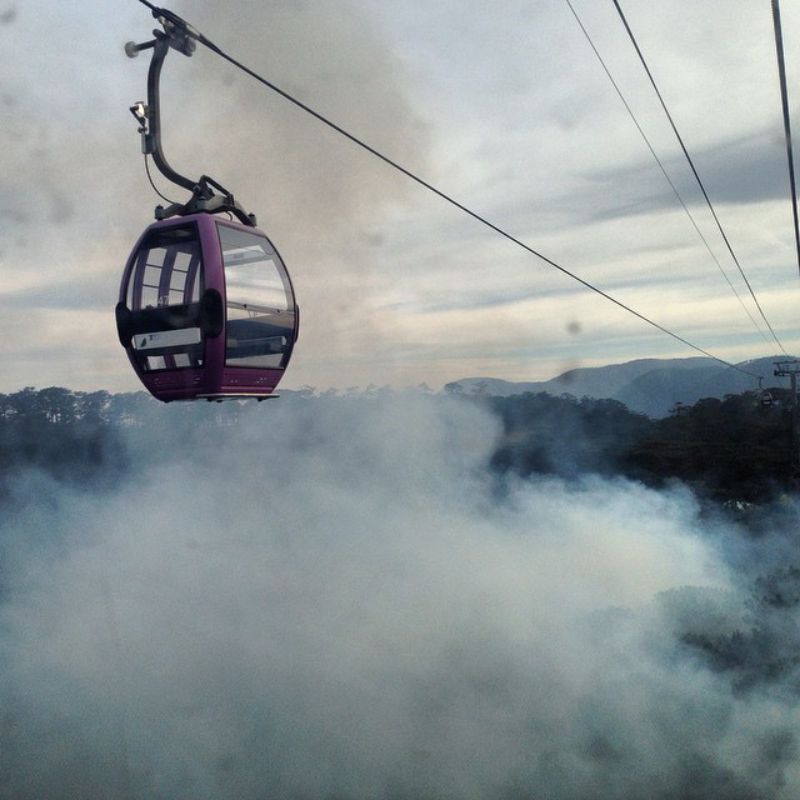 Dalat cable car location
Situated on Robin Hill with an elevation of 1517 meters above sea level, Dalat cable car has view southwest towards 2267 meters hill and pine forest to stop at Truc Lam Zen Monastery on Phuong Hoang mountain with the height of 1490meters.
Dalat cable car map – Map of cable car and Robin Hill in Dalat
Address: Robin Hill, Ward 3, Dalat city
Information about Cable Car Dalat Vietnam
Dalat cable car opening hours
Cable car Dalat open at 09:00am and close at 06:00pm.
With 9 hours per day, Dalat cable car station welcome tourists to have a wonderful trip.
How long does dalat cable car take
Travel time from Robin Hill (1,575m) to the terminal (1,490m) near the Truc Lam Zen Monastery is 12 minutes. After that, you can take a break at station stop, where visitors can visit the Truc Lam Zen Monastery and Tuyen Lam lake. If you choose round-trip ticket, you will return Robin Hill after your visitting is finished.
Dalat cable car price
Round-trip ticket: 80.000VND (3.43$)/adult, 60.000VND (2.57$)/child

One-way ticker: 60.000VND(2.57$)/adult, 40.000VND (1.72$)/child
Dalat cable car cost is so cheap and accordant with its service quality.
Contact booking
Tel: 0263. 3837938

Sales & Marketing Executive
Dalat cable car review – An exciting experience
When you are staying in cabin
Leaving from Robin Hill, crossing many hills and slopes. The pine forests are so vast, Dalat cable car system is the longest cable car in Vietnam. With 50 automatic cabins have many color, the distance of 120m between the cabin ensure safety and ventilation. Visitors can enjoy the mountainous forests of majestic mountains, see the panorama of the highland city and fly on the vast pine forests, enjoy the cool weather in Dalat.
From the cabin looking down, visitors will have the feeling of fun, strange, admire the whole city of Dalat. It is as hidden behind the vast forest, heroic, mixed with mist to create the feeling. It seems to be lost in fairyland in fairy tales. Take a good look at the panoramic view of Dalat city, the small roofs. There are the undulating green trees and the small roads… It likes arouse in each visitor a strange feeling. It is hidden deep in the heart just waiting for the opportunity to wake up.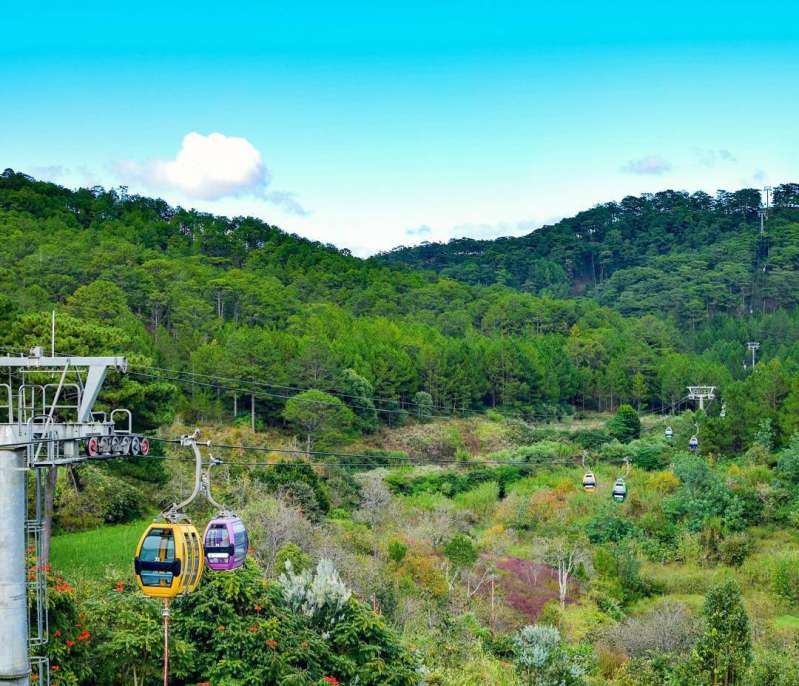 This strange feeling will become as clear as the breath. When you sit on the cable car from Robin Hill to the bottom of the hill. Experience the difference of living and being different whether you take the cable car in Dalat many times. Still a windy Robin Hill with 15.000 square meters green trees. And th cable car Dalat most modern level of Lam Dong province is still the Truc Lam Zen Monastery – Tuyen Lam Lake waiting at the end of the road. It is a trip to enjoy the green forest in the land of fog… It is all very close but also contains the feelings of a heaven of poetic, cold and strange.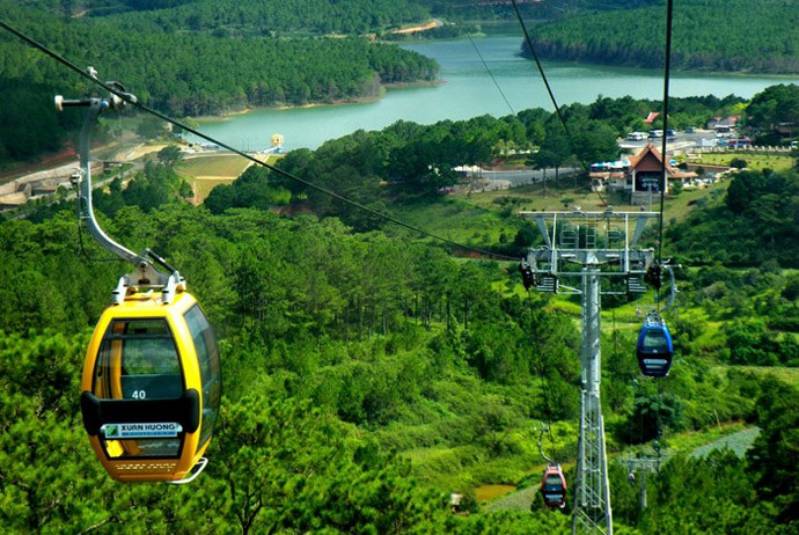 When you are being at station
In addition, visitors can enjoy dishes with bold flavors of Dalat restaurant at the Robin Hill station. And at the Truc Lam Zen Monastery Zen station, you can enjoy vegetarian. Especially at night cable car tourism Dalat has put into service visitors program "enjoying coffee on cable at night".
Beside to watching the high cable car, visitors can also admire the panoramic city of Dalat from a glass telescope on the roof of the Robin Hill station. At the station, visitors will be visiting Truc Lam Zen Monastery – Tuyen Lam Lake.
Dalat Cable Car – a tourist destination of Dalat attracted by a flying journey. Explore the beautiful scenery, watching the thousand flowers city from a new angle. This place has contributed to the attraction of the city. This is also one of the tourist destinations in Dalat Vietnam. With the number of domestic and foreign visitors to visit most of the land of fog.
Dalat may only be a small town but there is no shortage of things to see. Because the countryside around it is so beautiful, and very lush and green compared to further south. A lot of trees can be grown here that can't elsewhere in Vietnam. Evident by the countless greenhouses and fields of fruits and vegetables visible across the hillsides.
Ago Tourist hope you will have a good trip at Dalat, especially Dalat cable car.